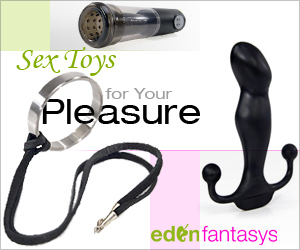 Yea, I'm sure that you are aware that we focus on the women here at A Woman And Her Wand, but this post is ALL ABOUT THE MEN!
EdenFantasys has some pretty great deals going on that I thought you might need to know about; so, sit back, relax, grab a….well, whatever you want really! and get ready for the deals!
We have our Hitachi's, and you guys get Fleshlights! This top of the line VIBRATING Fleshlight is on sale for only $67.49! Holy crap, do I wish I had a cock right about now, that looks SO FUN! It is called the Fleshlight vibro lady touch, and I say you go check it out…unless you would rather keep reading for the other deals anyway.
EdenFantasys has a TON of different sex toys, something for everyone really! If you like a little anal stimulation (and who doesn't really?) you might want to check into this next item!
The Cheeky Boy gets 3.9 out of 5 stars, making it a TOP 10 Prostate Massager! It comes in Red, Blue, or Black and is currently on sale for only $44.99! It is made of Silicone, so it is body safe and easy to clean! And we all know you like easy to clean, cause let's face it…..all the cleaning is done by us anyway. It has reviews of no lower than 4 stars each, so it truly is a favorite among men, you should make it yours while it's on sale!
Ok, so, we covered a couple of the top selling toys for men, but there are SO many other toys on sale right now. Please don't make me list them all, my fingers already hurt from what I typed above. You can click HERE to see all the great sales on men's toys, but HURRY, cause these sales expire in three days!
And as always, they offer FREE Shipping if your total is $59 or more, but right now you can get at FREE TOY if your order is $60 or more! That is in addition to the FREE GIFT that you get with EVERY order! So FREE Shipping and two free items just for buying that Fleshlight above, the one you were going to get anyway!